Changing Lives, One Person and One Smile at a Time
Being an orthodontist means everything to me.
I feel it is important to be happy in your profession and I feel so fortunate to practice something I am passionate about and find deeply rewarding. After creating smiles for over 20 years, I can honestly say I have an even deeper appreciation for the specialty.
As an orthodontist, I get to meet, share time with, and learn from a wonderfully diverse group of people. As a result of the treatment my team and I provide, each person achieves their best smile: one that is healthy, functional, and beautiful. That smile will serve them well, for life!
At the same time, each person I treat enriches my life. Our conversations – what they share about their experiences, families, dreams – broaden my understanding and appreciation of the world. My patients make me a more rounded individual and more insightful orthodontist.
As much as what I do has a lasting, wonderful impact on each person's life, each person also makes a lasting, positive impact on my life.
Education and Experience
I chose the oral healthcare field out of a desire to help people lead fuller, healthier, and happier lives. The orthodontic specialty encapsulates all those things, along with offering the chance to build real connections with people while giving them beautifully healthy and confident smiles!
I grew up in Pearl City, Hawaii, and attended the University of Hawaii for my undergraduate studies. Moving to the mainland, I completed my Doctorate of Dental Surgery (DDS) at the University of Missouri-Kansas City. I then attended the University of Illinois at Chicago for my orthodontic residency and Master of Science (MS). Following my specialized orthodontic training, I relocated to Washington and opened Braces Inc.
Constant Learning and Professional Activities
It is a joy to be part of a person's journey, as they move from feeling self-conscious about their appearance to feeling confident in their smile. Patients trust me to provide them with the ideal treatment experience and stable, beautiful results.
Through ongoing continuing education, I strive to live up to my patients' expectations of quality care. I am the president of the Bainbridge Island Dental Seminar Study Club, as well as the founder and president of the Kitsap Invisalign® Study Club.
As a result of my extensive study and utilization of the Invisalign clear aligner treatment, I have been designated a Top 1% Invisalign Provider. I work closely with referring dentists discussing Invisalign cases and providing insight into how the aligners can be used to successfully treat patients without the use of traditional braces.
I am also an active member of the:
American Association of Orthodontists
Pacific Coast Society of Orthodontists
American Dental Association
Washington State Dental Association
Kitsap County Dental Society
Spear Study Club
These professional organizations offer numerous opportunities for learning, with meetings, seminars, lectures, online courses and training, and periodicals. I keep abreast of the latest methodologies, new technology, and emerging research, to provide the best orthodontic treatment experience and deliver healthy, becoming smiles.
Outside the Practice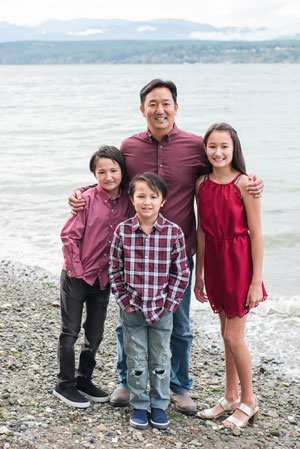 I have lived in Poulsbo for over ten years and love everything about this community. If I'm not seeing patients, family time is my top priority. I have three wonderful children: daughter Silvia and two sons, Simon and Emilio, plus our furry friend, Lemon, who's a Yellow Lab.
The children keep me busy with their many interests and activities and I love supporting all they do. I also enjoy soccer, fishing and hiking, and making the most of the great outdoors!